STRONG BODIES FOR ALL!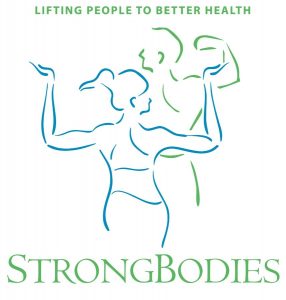 The FoodWIse team has been hard at work building strong muscles! FoodWIse nutrition educators Jace Purdy and Krystina Yang earned their Strong Bodies certifications on August 11.  They are now able to lead this series of weight-bearing exercises for older adults.
Research shows that regular exercise provides many benefits to older adults. Yet only 7% of middle-aged and older people exercise daily.
Regular, weight-bearing exercise helps older adults increase their strength, muscle mass, and bone density, and decreases the risk of osteoporosis, diabetes, heart disease, arthritis, depression, and obesity. Exercise has also been shown to improve self-confidence, sleep, and vitality.
Preventing osteoporosis—porous bones that break easily and heal slowly—is especially important for middle-aged and older adults. About 1 of 3 women over age 40 suffers from this condition. Exercise can help prevent and treat osteoporosis. For many people, the challenge lies in finding ways for older adults to get the essential exercise they need.
So what's the solution? The Strong Bodies exercise program!
Strong Bodies, an eight-week exercise program for older adults, teaches participants in small groups ways to exercise more regularly and eat more healthfully. This course is held twice a week at no cost to participants.  FoodWIse aims to host these exercise classes in rural community settings where access to exercise facilities is limited.
To request classes in English, contact Laura Apfelbeck llapfelbeck@wisc.edu or 920-683-4170.  Classes are available in Hmong, Spanish, and English.
Classes starting soon! Click the link below to register!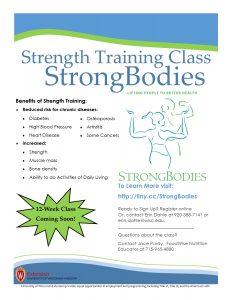 Qualtrics link in English:
Qualtrics link in Spanish:
______________________________________________________________________________________________________