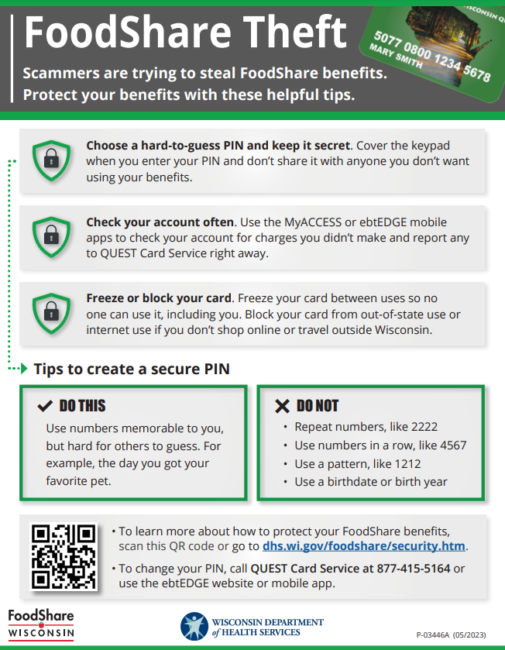 Dear Partners,
Feeding America Eastern Wisconsin has received multiple reports of scammers stealing FoodShare benefits this week. If you have guests reporting their benefits stolen due to card skimming, cloning, or related activities using federal funds, they can report their loss and potentially have those benefits replaced.
To report stolen benefits, you can use the Fraud Hotline or file a complaint with the Office of the Inspector General.
Below are additional resources on keeping your FoodShare benefits safe:
Choose a hard-to-guess PIN. Don't use repeating numbers, like 2222, numbers in a row, like 4567, or a pattern such as 1212. Don't use a birth date or birth year.
Keep your PIN secret. Cover the keypad when you enter your PIN. Do not share your PIN with anyone you don't want using your benefits to buy food for your FoodShare household.
Freeze your card between uses with the ebtEDGE website or mobile app. When your card is frozen, you and anyone else will be unable to use it. You will need to unfreeze it to make purchases again.
Block your card from being used on the internet if you don't shop for groceries online. You also can block out-of-state transactions if you are not traveling outside of Wisconsin.
Report lost or stolen cards immediately to QUEST Card Service at 877-415-5164.