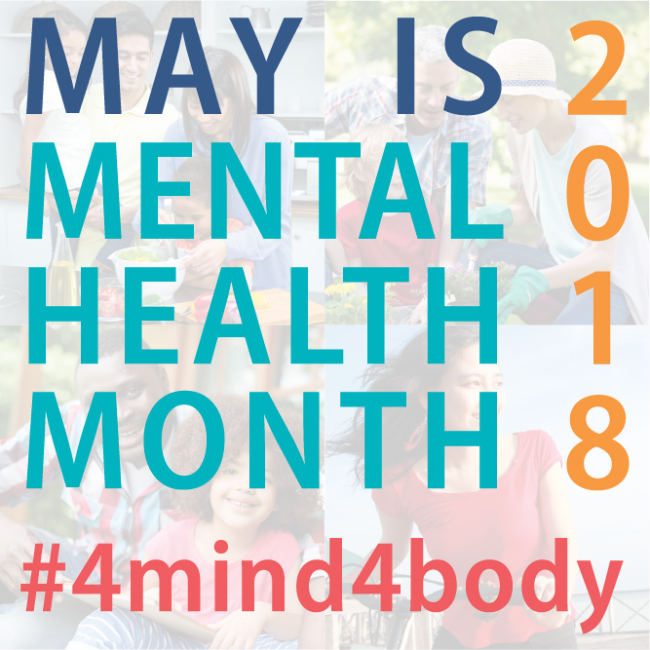 There are many activities to attend during Mental Health Month. Please click on the events, or scroll down, for more information.
Click here for a printable version. Mental Health Month Calendar
Algoma Book Corner – Algoma
Offering 1/2 price on a wide selection of books that support the Mind, Body and Spirit!
Weekly Walking Group – Wednesdays at the Algoma Wellness Center
FREE community walk! Meet new people, reduce stress, get in shape, and have FUN! 6 pm every Weds. Meet at the Community Wellness Center. All are welcome! Led by DCMC.
Wellness Thursdays – Algoma Wellness Center
Wellness Thursdays will get you moving and boost your mood! We will spend the first half of class having fun moving while getting out heart rate up. Working at your own level is advised, so this is for both beginners and veterans. The second half of the class will be strength training, working at your own level. We will end with some stretching and relaxation, leaving you energized and ready for anything! Members: $2/class Non-members: $3/class Silver Sneakers/Optum Members: FREE Sign-up today! Call (920) 487-7001 ext. 4000 to reserve your spot.
Strong Bodies & Minds – Grandview Terrace, Algoma
Strength training for men and women. Open to everyone. Nutrition information is also shared. Improve balance, increase muscle, decrease arthritis symptoms. In addition to physical benefits, strength training also has tremendous mental and emotional benefits: improves mood and attitude, decreases depression, sleep better, enjoy socializing with others at class and build new friendships. Call Renee Koenig 920-388-7137
Color Me Algoma – Algoma Wellness Center
2 mile run/walk starting and ending at the Algoma High School. Get your color splash on and celebrate with family and friends!
Healthy Recipes at the Piggly Wiggly!
Good Food=Good Mood! Stop in at Craig's Piggly Wiggly in Algoma to grab a healthy recipe and #ThinkOutsidetheBox! Making meals from scratch and avoiding processed foods is good for the body and mind!
How Do You Maintain a Healthy Mind? – Algoma Public Library
"How do you maintain a healthy mind?" How do you improve your Mental Well Being? Exercise? Treat yourself to something? Quiet your mind? Write down the ways in which you improve your Mental Well Being. This will be up on the wall and people can write down their answers at the Algoma Public Library May 7th-19th.
Come and share your knowledge and experience with others!
Civility Training – St. John's Church, Rankin
This program is free and everyone is welcome to attend! Join us as we build a stronger commitment to the practice of civility here in Kewaunee County! For more information and to register visit https://kewaunee.uwex.edu
Healthy Living with Chiropractic Care – Algoma Wellness Center
Dr. James Benzschawel of B'Wel Chiropractic in Algoma will discuss how proper spinal alignment and chiropractic care affects the entire nervous system. Learn how this plays an important role in mental health, including anxiety and depression. You won't want to miss this conversation!
Stress Management – Algoma Wellness Center
We all have stress, right?! Join the conversation and learn more about the stress response, symptoms of stress and how you can cope better with the stress that comes your way! Presented by Nurse Jody FREE AND OPEN TO THE PUBLIC
Gun Safety – Algoma Public Library
Informational session on gun safety presented by Sheriff Matt Joski and the Healthy Algoma Educational Wellness Group. There are a limited number of free gun locks for participants.
Create Your Own Stress Ball – Algoma Public Library
Stop in at the Algoma Public Library to create your own stress ball! This is a great activity for the whole family! Don't let stress get you down, squeeze it away with your new stress ball!
B'Wel Chiropractic Open House – B'Wel Chiropractic
Visit the B'Wel Chiropractic practice and learn how chiropractic can support your physical and mental well-being. Open to the Public.
Leash on Manners Dog Training Seminar – Algoma Youth Club
Don't get dragged around! Open to all (no furry friends though). Donations appreciated, and go towards the purchase of a microchip scanner for the Algoma impound facility. Hope with Hopeful Paws is presenting the seminar.
Community Garden Open House – Algoma Community Garden
Visit the Community Gardens in Algoma! Explore opportunities to grow your knowledge and grow your food! Gardening is good for the soul! Get connected to your roots! Good food=Good Mood!
The Gut-Brain Connection – Algoma Wellness Center
Eating a healthy diet can help improve your mental and emotional well-being. Join the conversation about how food impacts mood and sample some nutritious foods to boost your mood! FREE and OPEN to the public!
Healthy Innovations – Webinar
FEATURED GUEST: Rebecca Fairman, Executive Director, Connections for Mental Wellness
This live, 30-minute webinar is a part of our 2018 Health Innovations at Work Mini Sessions.
See the attached flyer for details and clickhere to registerand receive call-in information.
IMPORTANT: The call information will come from Jesse Stukenberg (Nurse Jesse) your host for Health Innovations at Work Minis Sessions.
If you're not able to make the live call, a session link will be sent to all registrants.
QPR Training – Algoma Wellness Center
Ask a Question, Save a Life. Suicide is a national and local public health problem; Suicide impacts across age, gender race, and economic status. Join us for a one-hour training on the suicide prevention method of QPR. We will teach you warning signs of suicide and discuss risk and protective factors. We will teach you simple strategies for beginning the conversation so you, too, can be part of the solution to ending suicide.
Class capacity 25 people.
Discover Zen Gardens – Algoma Public Library