Food Storage Information
Do you ever wonder how long you can store canned foods, frozen foods, baking products, and other food items? The following web site should help you answer some of these questions: http://www.ag.ndsu.edu/pubs/yf/foods/fn579.pdf
Food Safety Links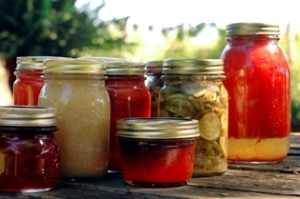 Food Preservation:
In the Know
Canning Videos: Preserving Food At Home Safely
These videos and narrated powerpoints can help you learn how to safely preserve food or add interest to your teaching. You can find many video resources online, but for safe preserving be sure to follow trusted resources from the UW Extension program.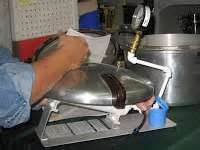 FREE Canner Gauge Testing Available This is the season for canning fruits and vegetables. Dial gauges should be tested every year to make sure they are accurate and at the right pound of pressure. The Kewaunee County UW-Extension office will test dial gauges at no charge anytime of the year. To make an appointment, call (920) 388-7141 to set up a time to have your canner cover tested. Office hours are Monday – Friday from 8 a.m. – 4:30 p.m.
Resources to download:
UW-Extension Publications – available in pdf format – free to download
Canning Fruits Safely Keep summer flavors and colors on your table all year. Guidelines for safely canning ripe, juicy fruits, fruit syrup and pie fillings in a boiling water canner. Revised with current research findings, remedies for common problems, and processing times for Wisconsin elevations. 34 pages
Canning Vegetables Safely What could be more delicious than winter meals with vegetables from your summer garden? Follow these guidelines and research-tested recipes for safely canning vegetables in a pressure canner. 28 pages
Canning Meat, Wild Game, Poultry & Fish Safely Beef, pork, lamb, poultry, fish and wild game animals and birds can be safely canned at home with good results – provided you start with properly handled meat, wild game, poultry and fish and carefully follow the processing guidelines in this booklet. 28 pages
Canning Salsa Safely What will you do with all those tomatoes? Follow recipes for safe and easy salsa your whole family will enjoy. "Canning Salsa Safely" guidelines are for Wisconsin home garden tomato and pepper varieties, conditions, and elevations. Salsa recipes have been research-tested to ensure they contain enough acid to be processed safely in a boiling water canner. 12 pages
Freezing Fruits and Vegetables Would you like to enjoy bright, crisp garden green beans all year long? How about ripe, juicy raspberries? Freezing lets you enjoy the bounty of your garden and orchards all year long. Research-tested guidelines for safe preparation and preservation of peak-of-the-season fruits and vegetables. 28 pages
Homemade Pickles and Relishes When your garden yields a surplus of fresh produce, or when the farm stand has prices too low to resist, then it's time to make pickles. Follow the research-tested recipes in this bulletin for safe and easy preparation and preservation of your garden bounty. 50 pages
Making Jams, Jellies and Fruit Preserves Fruit jams, jellies, preserves, conserves, marmalades, syrups, honeys and butters can add zest to meals, and provide a good way to use fruits not suitable for canning or freezing. Follow these research-tested recipes for safe and easy preparation and preservation of your garden and orchard bounty. 60 pages
Tomatoes Tart & Tasty Canning tomatoes can be fun — and very rewarding. This new bulletin contains guidelines for safely canning tomatoes from home gardens. It is revised with current research findings and updated for Wisconsin tomato varieties, conditions, and elevations. Research-tested recipes have been reviewed to ensure they contain enough acid to prevent growth of C. botulinum spores. 28 pages
_______________________________________________________________________________________________
Dial Gauge Pressure Canner Testing Dial gauge pressure canners should be tested each year for accuracy. A pressure canner is essential for canning low-acid vegetables, meats, fish and poultry. Pressure canners come with either a dial-gauge or a weighted-gauge. The Kewaunee County UW-Extension office offers free dial-gauge testing; call 388-7135 to arrange a time for this service.