What is the Community Garden?
Community gardens are available for residents in Kewaunee County, and are located Algoma, Kewaunee, and Luxemburg.
Kewaunee:  Located at 915 3rd St., Kewaunee, on the Kewaunee School District Agriculture Grounds
Algoma:  Located at 1528 Sunset Ave, Algoma, behind Kewaunee County Food Pantry.
Luxemburg: Located at 700 Heritage Road, Luxemburg, behind St. John's Church.
Each gardener can rent a plot for $25 per growing year and will receive a 20′ X 20′ plot. Each gardener has access to on-site water and port-a-potty through out the growing season.
Corn will be planted and available for plot renters.
Special vine crop area.
Kewaunee Community Garden
Kewaunee County Community Garden Guidelines and Kewaunee School District Agreement 2021
Kewaunee Community Garden Interest for 2021 – Word
Kewaunee Community Garden Interest for 2021 – PDF
____________________________________________________________________________
Algoma Community Garden
For Algoma Community Garden, contact Sharon Wahlers at 920-487-5876
___________________________________________________________________________
For Luxemburg Community Garden, contact Charles Piesler, 920-328-8704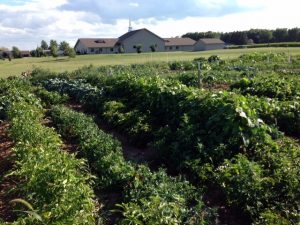 Master Gardeners
Master Gardeners are individuals who have an interest in horticulture, have taken Master Gardener training offered by UW-Extension and share their time and expertise with others. It is the acquisition of knowledge, the skill in gardening, and giving back to the community that distinguishes UW-Extension Master Gardeners from other gardeners.
For more information, including volunteer time sheets, please click here.
Jardín de comunidad
Usted puede alquilar un pedazo de tierra aproximadament de 20 pies por 20 pies.
Un pago pequeño cubrirá el agua, cultivando anualmente y un baño portable.
El jardín esta ubicado al sur de Kewaunee en Baumeister Dr.
Cuadros del jardín de la comunidad

STAFF
If you have any questions regarding Horticulture in Kewaunee County, please contact:
Aerica Bjurstrom
Kewaunee County – UW Extension
810 Lincoln Avenue
Kewaunee, WI 54216
Phone: 920-388-7138
Fax: 920-388-7159
Office Hours: M-F, 8 am to 4:30 pm
Email: aerica.bjurstrom@wisc.edu
Erin Dahle – Program Assistant
Phone: 920-388-7141
Email: erin.dahle@wisc.edu